Cleaning procedure for Xerox C405 Scanner Glass (Slit glass and Platen glass)
Power off the printer
Unplug the printer
Slightly dampen a soft lint-free cloth or paper towel with water.
Open the document cover
Wipe the surface of the document glass and white strip (CVT), and then wipe with a dry cloth or paper towel until they are completely dry.
Clean white strip and document glass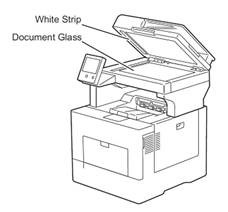 Clean white strip and document glass
Pull the tab to open the DADF chute cover and hold it open.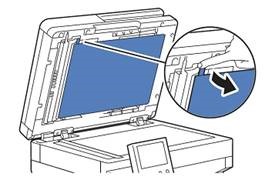 Open DADF chute cover
Wipe the surface of the white strip (CVT), and then wipe with a dry cloth or paper towel until they are completely dry.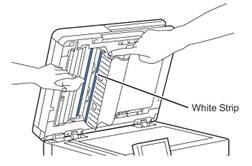 Clean white strip inside DADF
Gently close the DADF chute cover.
Close the document cover.
Plug the power cord in and power on the printer. For additional information on cleaning your Xerox C405 please refer to User Manual.