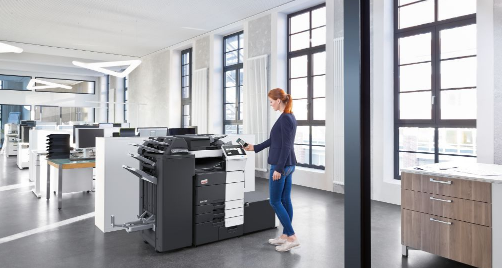 Managed Print Services (MPS)
Blue Box Managed Print Service – reduce printing costs, save time and boost productivity. 
Our approach is to analyse your business document workflow to establish your print and document needs.   We complete a detailed Print Audit, looking at your existing costs and methods before providing our recommendations that will improve efficiency, reduce wastage, minimise energy consumption and ultimately save money for your business.  
We use a Pro-active approach with live monitoring of your printers to detect when parts and consumables are likely to need replacing, diagnose faults and automatically dispatch toner before you run out.  You'll never have to order toners again!  When a fault does arise we are forearmed with the information to dispatch one of our highly experienced engineers to attend within a few hours to resolve the problem.  Our friendly Technical Helpdesk team will even connect remotely to install printer drivers for you and make 'tweaks' to ensure you are always running at your optimum level of productivity.
View our New Managed Print Products & Reconditioned Managed Print Products
Analyse
Analyse how your business works to evaluate how you print, scan and copy.
Assess your existing print systems and costs
Identify improvements
Highlight where savings can be made
Create a Managed Print Service optimisation plan
Improve
Improve efficiency
Minimise Costs
Streamline Print and Document Productivity
Reduce your environmental impact
Eliminate wastage
View our New Managed Print Products & Reconditioned Managed Print Products
To find out how Blue Box Managed Print Services can improve the way you work please call 0845 129 8386, email web@bluebox.co.uk or complete the contact form.